As a member of the St Vincent de Paul community our Catholic faith embodies our whole being.  As followers of Jesus Christ we look to the model that Jesus has shown us to live out our lives as people of faith.
Prayer life
The staff and students are provided with opportunities to pray each day.  This is an integral part of building a strong relationship with God.  Each day begins with a prayer, enabling staff and students to take time to reflect on the importance of having a deep connection with our God.  The students are involved in praying in a variety of ways including formal and informal prayer, sharing a special intention and through song and movement.
Our School Prayer is a very important part of our faith at school, with the school prayer a prominent feature of our school assemblies and school community gatherings.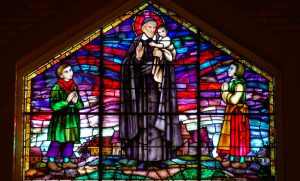 God of love, you gave Saint Vincent de Paul, the courage and wisdom to help the poor and care for children.  Help us to care for others and always have faith in you. Amen. Saint Vincent de Paul, pray for us.  
Our Sacramental Journey and Celebrating the Eucharist at Mass: The staff and students are provided with opportunities to live out and express our Catholic tradition, with a strong partnership with the Parish and Parish Priest, through: Family masses, Special events (e.g. Ash Wednesday, The Assumption of Mary, St. Vincent de Paul Day) and class led Masses.  We are very fortunate to have a very supportive Parish Priest, who is involved in the faith development of all staff and students.
The Sacraments are celebrated in partnership with both School & Parish.  The Sacraments include:
First Reconciliation – Year 3
First Holy Communion – Year 4
Confirmation – Year 6    
Learning in Religious Education
The key to learning in Religious Education is to engage students in learning about our Catholic faith through dialogue, scripture and the world today.  The Religious Education curriculum contains three integrated components: The Strands of Learning, the Content Areas and the Achievement Standards.  The main focus of learning in the Religious Education curriculum framework centers around seeking truth and understanding, making meaning and living out God's word.
The content of the learning in the framework is organised through five areas:
Jesus and Scripture
Church and Community
God, Religion and Life
Prayer, Liturgy and Sacrament
Morality and Justice
Social Justice at St. Vincent de Paul           
At St Vincent de Paul we pride ourselves on giving to people who are most in need.  As Jesus has taught us to 'Love one another as I have loved you', we too, look for ways to live out his message through our social justice work.  As a school, we are led by the Year 6 Mini Vinnie's Social Justice Group, who are involved in a number of initiatives to give back to the local and global community.  The Mini Vinnies group organise events such as the Lenten Appeal, the Winter Appeal and Christmas Appeal, as well as the Columban Mission Walkathon.